Have you been reading through mattress reviews online only to find that you are more confused than you were before? What if Nora mattress reviews and side-by-side comparisons to top competitors all lived in one place? Thankfully, we've got just what you need to find trusted Nora mattress reviews alongside a comparison chart that covers everything from how many layers of foam are used in each mattress to prices and financing options. Convenient, right?
See why the Nora Mattress stands out from the rest. And P.S. – it isn't just us or our sleep experts who created the innovative bed-in-a-box mattress who love the Nora.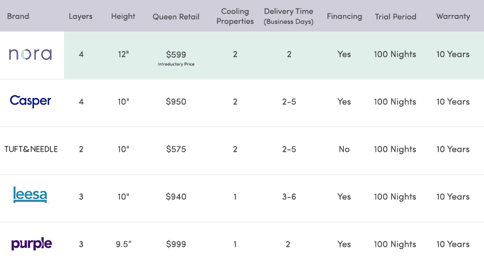 Check out these Nora mattress reviews from real people who have slept on the mattress. You'll get a chance to see just how effective the cooling-gel memory foam and jade infused cover are at providing a cool and comfortable night's sleep. Let the reviews answer your questions about support levels and firmness through real life experiences.
We trust the Nora reviews will make you confident in the mattress's ability to combine the right mix of firm support yet giving memory foam. Let your aches become nothing more than distant memories and see why the Nora mattress is being called "The Best in Rest".